The First CO

2

Spray Cleaning Process
Fong's (Lockheed Aircraft) Pellet Blast Process
During the 1970's, Calvin Fong, Lockheed Aircraft Corporation, Burbank California, developed the very first surface cleaning process utilizing "sublimable particles" – solid carbon dioxide pellets – entrained in a compressed air stream. Shown in Fig. 1, the Fong invention is described in detail in U.S. Patent No. 4,038,786, "Sandblasting with pellets of material capable of sublimation", August 1977 (Fong 1977).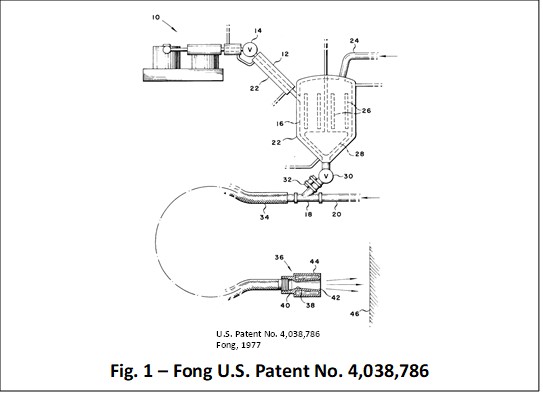 Sandblasting is a generic term used to designate any of a series of processes in which soft to hard pellets or particles are propelled against a surface by entrainment within a stream of pressurized gas to effect a change at or upon such a surface, for example the removal of surface contamination, rust, paint, or the mechanical roughening of a surface. Conventional sandblasting is commonly utilized for cleaning various types of surfaces containing different types of contaminants.
Fong's CO2 blast cleaning invention resolves many constraints associated with the use of conventional (non-sublimable) blasting particles such as silica and aluminum oxide. These include worker safety, air pollution, post-cleanup, and disposal of spent sandblasting particles. Fong's spray cleaning process utilizes a cleaning agent that disappears. There are no cleanup problems after the surface had been sandblasted with solid carbon dioxide particles. Further, gaseous carbon dioxide, a natural component of the carbon cycle is readily dispersed (recycled) back into the atmosphere.
Fong focused on resolving key challenges associated with employing pelletized carbon dioxide as a blast cleaning media. These challenges concerned the uniform entrainment, transport, and application of CO2 pellets using compressed air. The CO2 particles must be uniformly dispersed within and applied by the air stream through a suitable nozzle to maximize the effect of the particles at or upon the surface contamination. Another problem is that the impingement of dry ice particles against a surface contaminant has a somewhat variable effect because of its relatively low density compared to many other types of non-sublimable particles. Further, the results achieved in sandblasting with dry ice pellets or particles tended to be somewhat non-uniform because of inconsistent and non-uniform CO2 particle spray densities within the compressed air. To a large extent the latter problem was due to agglomeration or clumping of the CO2 pellets during injection and distribution into the compressed air stream, resulting in variable CO2 pellet or particle spray density within the air stream.
Fong resolved these first-generation process constraints using mechanical and electrostatic control measures. CO2 pellets were continuously agitated (mixed) prior to injection into an air stream and exposed to ionizing radiation to neutralize electrostatic charges, which tended to cause the CO2 particles to adhere (clump) together. Finally, the density of the CO2 particles was optimized to improve surface cleaning. This was achieved by creating "fresh" CO2 pellets and using them as soon as possible to preserve the density and hardness of the solid particles.
In the late 1980's, a start-up company called Alpheus Technologies licensed the new blast cleaning technology from Lockheed and developed a large mobile demonstration system. The mobile blast cleaning system utilized a semi-truck that carried a liquid carbon dioxide supply, CO2 pelletizer, air compressor, and CO2 blast cleaning system. I reached out to Alpheus in early 1990 regarding blast cleaning electroplating waste (heavy metal-laden sludge) from wastewater treatment floors and equipment located at Everest & Jennings, Camarillo, California. At that time, I had recently left Hughes Aircraft and was working as an Environmental Consultant while developing the first centrifugal liquid CO2 cleaning prototype system in my home garage.
In 1996, I purchased a CO2 pellet blasting system from TOMCO2 Systems, Loganville, Georgia. During my initial applications development using the TOMCO2 pellet blaster, I experienced first-hand some of the constraints associated with CO2 pellet blasting. Most notable were the huge quantity and pressure of compressed air required to perform effective blast cleaning of surfaces and atmospheric moisture condensation onto CO2 pellets which formed clumpy frozen water-CO2 ice masses. The TOMCO2 system employed a pneumatically operated sliding gate within an air stream interlock to introduce pellets contained in the hopper into the high-pressure air stream. This feature required periodically poking the pellets and sliding gate with a rod to reduce agglomeration and to clear the airstream interlock. I utilized the TOMCO2system in contract cleaning services and custom equipment development.
In 1997, a mobile CO2 pellet blast cleaning (track maintenance) cart was developed for Disneyland, Anaheim, California. The mobile CO2 pellet blast cleaning cart was used to remove built-up oily and carbonaceous (resistive) residues produced by the deposition and breakdown of special effects smoke on fully energized (100 Amp) power tracks on the Indiana Jones attraction. The system employed an electrically powered 4-wheel drive cart with all terrain tires pulling a trailer carrying an air compressor and the TOMCO2 pellet blaster. This system required the development of a self-aligning (gimbaling) spray applicator (designed by Richard W. Jackson and Ben Hirai), implemented as a spray cleaning trolley mounted below the floor to align the spray nozzle with the power track no matter the inclination or elevation of the motorized cart and trailer during its traverse along rough terrain. The Disney project marked the end of applications development using CO2 pellet blast technology as I focused exclusively on our new (first-generation) CO2 Composite Spray technology for precision cleaning applications.
Ready for next steps? Try our CO
2

Powered Consultation.