CO

2

is a Manufacturing Technology
Cleaning, Cooling, and Lubrication
Carbon dioxide (CO2) is a colorless, odorless, and naturally occurring chemical compound made up of one carbon atom covalently double bonded (resonantly) to two oxygen atoms. Carbon dioxide exists in Earth's atmosphere as a trace gas at a concentration of about 400 ppm. Natural sources include volcanoes, hot springs, and geysers. It is present in deposits of petroleum (liquid), natural gas, and calcium carbonate (limestone). It is released from limestone by heat and pressure (sublimation) and by dissolution in water and acids. Because carbon dioxide is soluble in water, it occurs naturally in groundwater, rivers and lakes, in ice caps and glaciers, and also in seawater. Major industrial sources of CO2 include fermentation, fertilizer production, energy production, and petroleum oil processing plants. CO2 is continuously generated from and/or transformed into various carbon-based compounds - liquid, gas, and solid - through numerous natural and industrial processes such as photosynthesis, fermentation, combustion, and chemical synthesis. CO2-laden emissions from natural and industrial sources are captured, purified, liquefied, stored, and distributed for reuse in many industrial processes.
Referring to Figure 2-1, CO2 is used in a variety of industrial processes. These processes include, for example:
Increasing hardness (formation of metal carbides) in metal castings
Shielding surfaces from oxygen during metal welding
Source of carbon in chemical synthesis
Extraction aid (flowability) in petroleum oil drilling and pumping
Plant growth stimulation (photosynthesis) in green houses
Respiratory stimulation in medical treatments
Propellant gas in aerosol sprays
Preservation and preparation of foods (freezing, carbonation, and oxygen displacement)
Treatment of alkaline water (acidification, pH control)
Refrigerant fluid (R744) in refrigeration systems
Referring to Figure 2-2, CO2 is used to provide precision cleaning, cooling, surface functionalization and finishing operations. In these applications, CO2 is neither generated nor transformed. It is simply borrowed from the readily available supplies of CO2, repurposed to perform a valuable manufacturing function for a period of time, and directly or indirectly returned back to the (CO2 gas) inventory. As such, CO2 used in commerce is more appropriately described as "Recycled CO2".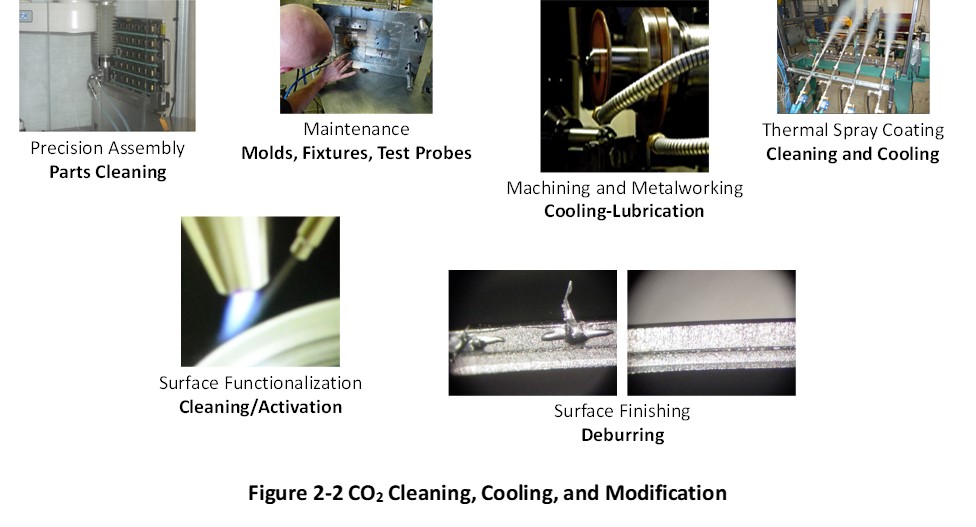 Arguably, the most important reason for using recycled CO2 is that it efficiently replaces the valuable function provided by industrial processing agents such as deionized water, solvents, soaps, lubricants, and coolants. Recycled CO2 eliminates the negative environmental and energy consequences associated with manufacturing, packaging, transporting, treating, recycling or disposing of conventional processing agents. Replacing conventional manufacturing agents with recycled CO2 conserves natural and human resources – water, oil, energy, time, capital and labor. Producing, transporting, and consuming less processing agents eliminates the production of associated environmental pollution and waste by-products such as solid wastes (i.e., filters, sludge), liquid wastes (i.e., wastewater, brine, spent oils and solvents), Hazardous Air Pollutants (HAPs), Volatile Organic Compounds (VOCs), and greenhouse gases (GHGs). Moreover, utilization of recycled CO2 delivers additional societal benefits such as safer working environments, cleaner air, cleaner products, longer lasting machines and tools, higher production yields, increased productivity and improved global competitiveness [2-1].
References:
2-1. Jackson, D, "Setting the Record Straight: CO2 Technology is Part of the Solution", EHS Today,
Ready for next steps? Try our free Smart Extraction / Clean Manufacturing Consultation.