CO

2

Process Fluids
Purification, Delivery, and Recycling
During the initial CO2 technology development period, adjunct innovations were co-developed to support the CO2 immersion and spray cleaning platforms. Shown in Figure 1-20, technologies include single- and multi-stage CO2 distillation systems, cold-trap refluxing stills, in-situ condenser-purifiers, and high pressure-capacity CO2 delivery systems.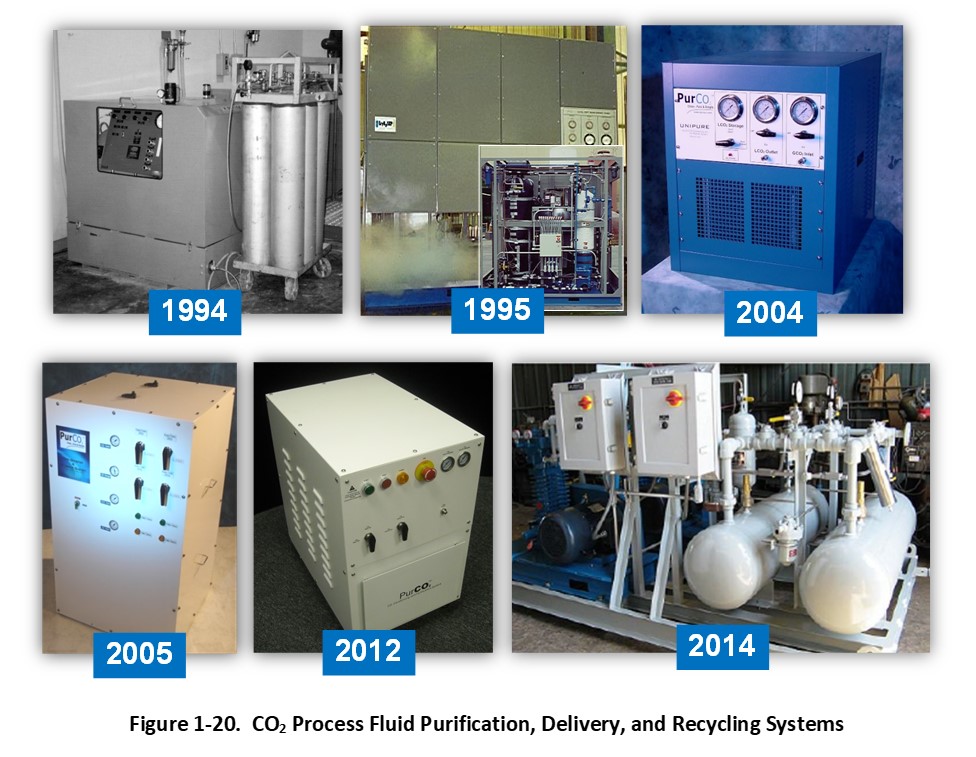 A novel CO2 purification and recycling process called "isobaric distillation" is shown schematically in Figure 1-21. The isobaric distillation process continuously distills and condenses CO2 under relatively constant temperature and pressure conditions (approximately 832 psi at 70 Deg. F) using a closed-loop heat pump scheme analogous to a continuous solvent distillation system used in a conventional vapor degreaser under ambient pressure conditions [35].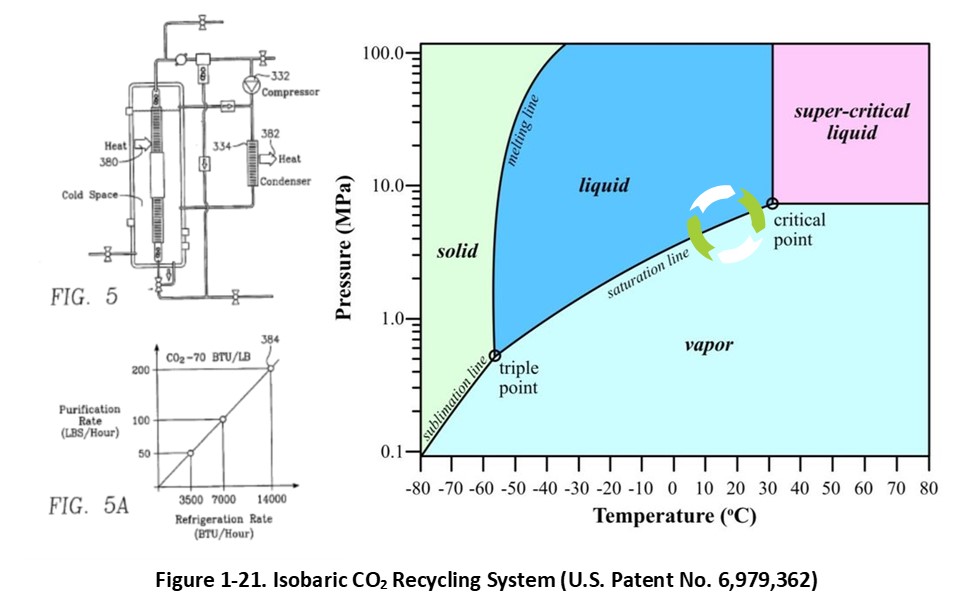 A finned-tube distillation tower is positioned vertically and coaxially in the CO2 solvent holding tank within which contaminated liquid CO2 is vaporized using an external vapor transfer pump to separate the CO2 from the contaminants. The purification process uses (internal) phase change and a (external) vapor treatment train comprising coalescing, activated carbon, and particle filters. The evaporation process (liquidàgas) cools the internal holding tank fluid (liquid CO2) vis-à-vis heat exchange with the finned-tube distillation tower. During recompression of the purified vapor-phase CO2 into the holding tank, compression heat is added back into the internal tank fluid. Contaminants are concentrated at the bottom of the distillation tower and periodically released under pressure (tower blown down) and recovered in an external separator. The isobaric still, commercially referred to as IsoStill™, is particularly useful for Centrifugal CO2 immersion processes. During cleaning or extraction processes, liquid CO2 is continuously exchanged between the IsoStill and the centrifugal processing chamber while the liquid CO2 is continuously purified and recycled.
References:
1-35.

U.S. Patent 6,979,362, D. Jackson, Apparatus and Process for the Treatment, Delivery and Recycle of Process Fluids used in Dense Phase Carbon Dioxide Applications, December 25, 2005
Ready for next steps? Try our free Smart Extraction / Clean Manufacturing Consultation.