About the Author
David Jackson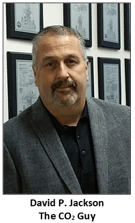 While attending college, Mr. Jackson worked full-time as a manager of a certified testing laboratory analyzing pollutants in wastewater generated and discharged by industrial manufacturers and municipal wastewater treatment plants. Following graduation and working for Hughes Aircraft Company as a group head of precision cleaning and contamination control in the mid-1980's, he developed first generation CO2 immersion cleaning processes for use in the manufacture of advanced aerospace products. While moonlighting the construction of his first commercial centrifugal CO2 immersion cleaning system in his garage between 1989 and 1992, he worked as an environmental consultant, helping manufacturers minimize and treat EPA-regulated wastewater effluents generated by their electroplating and metal finishing operations. Mr. Jackson launched his first CO2 business venture in 1993 and over the following 12 years developed and commercialized several CO2 immersion and spray cleaning products and accessories.

Mr. Jackson founded CleanLogix, LLC (CleanLogix) in 2004 and Clean Imagineering, LLC (Clean Imagineering) in 2015. Clean Imagineering is solely responsible for clean manufacturing business development and serves as the sales-distribution group partner. Cleanlogix provides exclusive engineering-manufacturing support services to Clean Imagineering. Mr. Jackson also serves as a technical consultant to Hitachi High-Tech, Tokyo, Japan under their global Clean Solutions Program, providing intellectual property and commercial sales program development support for cleaning, cooling, and lubrication applications.
Mr. Jackson's hands-on and creative problem solving approach has resulted in the development and implementation of cost- and performance-effective clean manufacturing solutions for many companies over the past 30 years. These companies have benefited from improved product yields, increased productivity, reduced material inputs, lower energy and water usage, and decreased regulatory burden. Others have profited from the development of entirely new clean manufacturing products and services for new markets and applications. All of these businesses have improved the environmental quality and safety for their employees, customers, and communities.
Mr. Jackson holds a Bachelor's degree in Chemistry from California State University and attended graduate school at California Lutheran University before founding his first CO2 venture. He has been issued more than 40 patents, developed and commercialized more than 15 products, and has authored dozens of industry articles and conference presentations. He is a member and contributor to manufacturing and professional associations including ASM, SME, and SAMPE.
Ready for next steps? Try our free Smart Extraction / Clean Manufacturing Consultation.